by  Travel & Food Writer Mary Gallagher and Photographer Will A..Davis —
We took our first 2 ½ hour culinary walking tour in downtown Charleston recently with the aptly named Charleston Culinary Tours. In our travels, I've done the forced march through wind, rain and snow for miles to eat a tiny meatball, tours lead by commando types, the not enough food tours, running late tours (flat popovers), vegetarian in Paris,  workers lunch in Kuala Lumpur and the way too much to drink tour but Charleston Culinary Tours provided an excellent afternoon outing of eating.
.
The hardy group strikes out for even more food and history,
Early spring can be tricky in Charleston and we had cool but decent weather for our afternoon walk covering a few blocks of this foodie city in the historic area near the popular vendors of City Market.
We met up at the Southend Brewery and Smokehouse, housed in a cavernous historic warehouse with gigantic brewing equipment (behind glass) working away  adjacent to our table. The restaurant brewery is  convenient to most everything Bay Street and walking distance to a dozen hotels.
The Guide
Charley our guide, a most charming and knowledgeable young lady kept us interested in the food and historical facts about Charleston. Will Davis my writing partner and photographer is quite the history expert on many cities and sites including Charleston and he listened attentively.
Charleston has very strict rules about guides and no one can utter a "knowledgeable" word on the street (as a guide) unless they have passed exhaustive (expensive) testing and licensing by the city. Rogue guides face a big fine of $1000+ and have been nabbed by police sting operations. This city takes tourism seriously (except for public toilets). Interestingly the other couple in our hardy band were local too. Charleston Culinary tours can take up to 18 adults per tour but I personally would avoid that large of a group if possible.
Southend Brewery and Smokehouse
Our first sampling at Southend Brewery included some tasty                     She Crab soup as interpreted by the chef. It was very good                       albeit spicy and without a shot of sherry on top as is the custom           some follow.
Next was an ample appetizer of fried green tomato with the famous southern pimento cheese on top. I've had a fair amount of pimento cheese since moving here three years ago but this batch, very good still had a spicy kick. Like local recipes everywhere, each chef and family have their own rift on this fairly simple recipe.
Next came a generous serving of pulled pork BBQ and a side of coleslaw. Of course there was a nice tasting of Southend Beer to wash it all down. And that was only the first stop!
Charley clued us in on local history of the old building the brewery is located in as we, already stuffed, rolled out the door to our next stop. As everyone will warn you the sidewalks of Charleston are treacherous. Wear flat sensible shoes and keep alert. Step back from the curb at corners.
Amen Street Fish and Raw Bar
Pretty quickly we popped into Amen also on Bay Street and noted for its "fresh" seafood.
Amen Seafood Restaurant on East Bay Street.
Here Charley picked up shrimp pronto pups for us to sample during our walk to the next stop.
We're adjacent to the City Market now and I know Charleston and it's history pretty well but we picked up more interesting facts while consuming our pronto pups. In my analysis of this tasty snack, this is how I think you can make a shrimp pronto pup at home. Take a wooden skewer and string on a few cooked good size shrimp. Now dip it in pronto pup batter, deep fry to golden brown and enjoy. I'd have to eat one again to narrow in on the seasoning but Old Bay is always a good bet if you want to add a little kick to the batter.
Burwell's Stone Fire Grill
Taking a right at the Market and walking towards the water we came to the unassuming exterior of a Charleston favorite Burwell's and they pulled out the red carpet for us.
This was the only restaurant that chefs came out from the kitchen to explain their dishes and answer questions. The wait staff was also highly professional. It was easy to see why they have such good reviews.
Our first course was a Carolina Sunchoke soup accented with lemon, very smooth and everyone finished it quickly.
The second course involved cooking your own high grade beef cubes on a flat lava rock heated to 700 degrees sprinkled with rock salt and three accompanying dipping sauces. The idea is to toss the cubes of high quality beef onto the stone and cook it to your choice of doneness. Like Teppenyaki without all the drama of flashing knives.
OK the troops are starting to look a little green around the gills even the big eaters who started out strong. We've sampled fewer items than I expected but portions are large, tasty and I can't move!
But wait we're not done yet!  Burwells has more! Out of the kitchen comes Pastry Chef Heyward Washington with individual chocolate cheesecakes that were so good we talk and remember them wistfully today and I don't usually eat chocolate!
Kaminsky's
Waddling on, it's off to the last stop Kaminsky's still on Market. In the same location for 20+ years offering what looked like five layer carrot cake, blueberry crumble pie, cheesecakes and well you get the idea. Too full we get ours to go and I have a shot of very nice espresso. Unfortunately this was the bummer stop. Our two desserts were pretty to look at but almost inedible, mass produced likely with lots of artificially flavorings and ingredients. There are so many bakeries and pastry shops in Charleston run by artisans best to save your calorie consumption and seek them out instead.
This was probably the fewest number of stops I've had on a culinary tour but the quality was excellent and we certainly weren't hungry for many hours afterwards. Because there were only four of us it was a leisurely time, we always heard Charley and had great opportunities to ask her questions.
I was a bit disappointed that representatives of the restaurants only came out in Burwell's to talk to us in spite of all the places being quite quiet. Then again it was mid-afternoon a down time for chefs.
Charleston Culinary Tours offers some of the best unique historic tours that highlight the local cuisine. Charleston history, and cocktails.  There are six tours that include Downtown, Upper King Street, Chef's Showcase at The Farmer's Market, Chefs' Kitchen, Mixology and new for summer 2015 a Distillery Tour on Thursdays, Fridays and Saturdays from 12:30 p.m. – 4:00 p.m . This 3.5 hour tour of Charleston's micro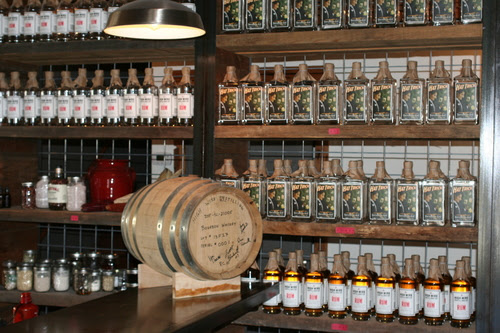 distilleries has guests riding in style in Charleston Brews Cruise's air conditioned coach for a 3 stop tasting tour, learning more about Charleston's growing craft distillery scene. In addition to samples at each distillery and snacks and water between stops, at the conclusion of the tour participants will be taken to a local pub to enjoy a cocktail made with one of the spirits distilled locally in Charleston.
Reservations are required in advance for all tours. Groups need to be booked at least three days prior to tour. Each tour is limited in size, so it is recommended that you get your reservations early. Charleston Culinary Tours are held rain or shine.
843-259-2966
Info@Charlestonculinarytours.Com
Mary Gallagher and Will A. Davis are residents of downtown Charleston when not traveling the world.